November 7-19, 2012
Polish Film Festival and Book Fair & WWII Writers' Event
at Canisius College and Market Arcade Theatre in Buffalo
The Permanent Chair of Polish Culture at Canisius College, in conjunction with the Polish Legacy Project, presents Buffalo's first Polish Film Festival, Art Exhibit and Book Fair from November 7 – 19. Events are free and open to the public unless otherwise specified.The event kicks off with "Bloodlands: Europe between Hitler and Stalin," a lecture by Timothy Snyder, PhD, on Wednesday, November 7 at 7:00 p.m. in the Regis Room of the Richard E. Winter Student Center.
Snyder's talk is co-sponsored by the Kosciuszko Foundation, WNY Division, The Canisius College Department of History, and the Yale Alumni Association of Western New York.
"Bloodlands" is a new kind of European history, which presents the mass murders committed by the Nazi and Stalinist regimes as two aspects of a single history, in the time and place where they occurred, in the lands between Germany and Russia, when Hitler and Stalin both held power.
Snyder is the Bird White Housum Professor of History at Yale University. He specializes in the political history of central and eastern Europe. He is the author of five award-winning books (all of which have been translated): Nationalism, Marxism, and Modern Central Europe: A Biography of Kazimierz Kelles-Krauz (1998); The Reconstruction of Nations: Poland, Ukraine, Lithuania, Belarus, 1569-1999 (2003); Sketches from a Secret War : A Polish Artist's Mission to Liberate Soviet Ukraine (2005); The Red Prince: The Secret Lives of a Habsburg Archduke (2008); and Bloodlands: Europe Between Hitler and Stalin (2010). Bloodlands won five awards including the Emerson Prize in the Humanities and the Leipzig Award for European Understanding, and has been translated into more than 20 languages.
Snyder holds a doctorate from the University of Oxford, where he was a British Marshall Scholar at Balliol College, and a bachelor's degree from Brown University. He has also held fellowships in Paris, Warsaw, and at Harvard University, where he was an Academy Scholar.
Path to Glory (2011), directed by Jen Miller and Sophie Pegrum, will be screened on Monday, November 12 at 7:00 p.m. in the Regis Room on the second floor of the Richard E. Winter '42 Student Center. The beautifully filmed documentary traces the epic story of the illustrious Polish Arabian Horse, the unlikely triumphant saga of how a beleaguered nation rose up to the pinnacle of Arabian Horse breeding.
The Polish Legacy Book Fair will be held in the Montante Cultural Center from Thursday, November 15-Saturday, November 17 from 1 p.m. – 7:30 p.m. and Sunday, November 18 from
4:00 p.m. -6 p.m. at the Market Arcade Theatre, 639 Main St., Buffalo. Books and DVDs of Polish and Polish-American culture, history, and culinary arts will be available for sale. There will also be an art exhibit and sale that features works by Polish-born artist Andzej Kozyra.
Festival Events for Thursday, November 15 – Montante Cultural Center
Andrew Bienkowski and Mary Akers, co-authors of One Life to Give: A Path to Finding Yourself by Helping Others, will discuss their book at 1 p.m. Finding Yourself is based on the experiences of Bienkowski, who survived exile from his Polish homeland to Soviet Siberia. He also incorporates his professional work as a psychotherapist. Akers is a published author whose book of short stories won the 2010 Independent Publisher of the Year Award.  At 2 p.m., Bienkowski and Akers will present a workshop entitled, "Writing Together: The Many Sides of Co-Authorship."
Wesley Adamczyk, a survivor of Soviet labor camps and author of When God Looked the Other Way, will present a workshop entitled "Writing From the Heart" at 3:30 p.m. Adamczyk will share his insights about writing one's memoirs either for professional publication or to leave a legacy for one's family.
A festival reception will be held at 7:00 p.m. Guests are invited to browse the selection of books and DVDs, view the art and exhibit and sale which features works by Polish-born artist Andzej Kozyra, who studied at the Krakow Academy of Fine Arts in the studio of Jan Szancenbach.
Argentinian Lesson (2011), a documentary film directed by Wojciech Staron, will be screened at
7:30 p.m. The film focuses on the director's 8 year-old son, Janek, who moves with his parents to Argentina. Janek finds himself in a foreign country and immersed in an unknown language. He slowly learns about the world around him by befriending 11 year-old Marcia. Tickets are $10 for adults, $5 for seniors and free for students.
Decrescendo (2011), a film directed by Maria Minorowicz, will be screened at 9 p.m. The world of a nursing home is revealed through the eyes of a young therapist. While he is looks after the residents, the therapist feels the inescapability of his own death and tries to find the meaning of his own life.
Festival Events for Friday, November 16 – Montante Cultural Center
Wesley Adamczyk presents "Living in the Shadows of Katyn," a lecture and power point presentation at 6 p.m. Adamczyk's presentation is about one family's 10-year odyssey through multiple continents and countries, and the horrors of the Katyn Massacre,of which Adamczyk's father was a victim.
Battle of Warsaw 1920 (2011), a film directed by Jerzy Hoffman, will be screened at 7:30 p.m. (in Polish with English subtitles). The movie tells the story of Poland's winning battle against Soviet Russia as seen through the eyes of Ola, a Warsaw cabaret dancer, and Jan, a cavalry officer and poet who believes in social ideals.
Festival Events for Saturday, November 17-Montante Cultural Center
Poet and author Krysia Jopek presents a workshop entitled "Getting Your Work Published in the Current Literary Marketplace" at 4:30 p.m. Jopek, who is the daughter of Polish World War II survivors, will discuss her award-winning debut novel, "Maps and Shadows: One Family's Story of Siberian Deportation and the Aftermath," at 6 p.m.
80 Million (2011), a film directed by Waldemar Krzystek, will be screened at 7:30 p.m. (Polish with English subtitles). The movie presents the Polish struggle against communism. Set in Wroclaw, the events depicted took place ten days before the imposition of martial law in 1981. Tickets are $10 general admission, $5 for seniors and free for students.
Festival Events for Sunday, November 18 – Market Arcade Theatre, 639 Main St., Buffalo
Control Sample (2012), a film directed by Jakub Polakowski, will be screened at 6:00 p.m. (Polish with English subtitles). Poles of various social statuses who live in four cities of Western Europe reply to five thought-provoking questions about values and the condition of the young generation of Poles.
In Darkness (2011), Oscar-nominated film directed by Agnieszka Holland, will be screened at
6:30 p.m. (Polish with English subtitles). Set in 1943 as the Lwow ghetto is being liquidated by the Nazis, the movie tells the story of one man's rescue of Jewish refugees and their life hiding in the sewers. Tickets are $10.
Festival Events for Monday, November 19 – Regis Room, Richard E. Winter '42 Student Center
Award-winning poet John Guzlowski, PhD, will present a workshop entitled, "The Art of Listening: Writing Poems and Stories on Family." Guzlowski will share his strategies to use family conversations and childhood memories in writing.
Siege, an 11-minute film by photojournalist Julien Bryan, will be screened at 7:00 p.m. Bryan documented the agony of Warsaw as it faced the horror of Hilter's Blitzkreig in September 1939. Immediately following the screening, Guzlowski will present "Two Lives Shaped by World War II," which tells the story of his parents and their experiences as slave laborers in Nazi Germany.
Film information:
Margaret Stefanski: stefansm@canisius.edu
Book Fair & Writers' Event:
Sophie Hodorowicz-Knab: edsophie@verizon.net
April 25, 2010

Commemoration of the 70th Anniversary of the Katyn Massacres–2 p.m. Lobby of Buffalo City Hall. Rededication of Katyn Memorial sculpted plaque. Co-sponsored with the Buffalo Arts Commission. 4 p.m. Screening of Katyn, film by Andrzej Wajda at Market Arcade, 639 Main St. in Buffalo. Admission to film: $10. Call Andy at 510-7562 or email andywbuffalo@yahoo.com to RSVP, or online at: http://www.pingg.com/rsvp/jn4jm37y67fv67zwb
April 17, 2010

Swieconka-at St. Stanislaus Social Center, 389 Peckham St. in Buffalo. Polish Legacy Project-WWII will be recognized for its work during the past year. 5:30 p.m. $25. Reservations: Adeline Wujcikowski, 827-1722.

April 5, 2010

Dyngus Day Polish Cafe-at the Polish Army Veterans Assoc. Post,617 Fillmore, Buffalo. Fundraiser for the Polish Legacy Project -WWII. 4:30-?

January 17, 2010

Oplatek-St. Stanislaus Church in Buffalo after Noon Polish Mass. Sharing of oplatek and stories, koledy singing and food. Contact andywbuffalo@yahoo.com to reserve a spot and/or to volunteer.

November 16
Polish Film Festival in Rochester features the WWII-themed film
"Tomorrow We are Going to the Movies" (2007, 100 min.) Director: Michal Kwiecinski
Three Warsaw high school graduates from the class of 1938 dream of magnificent futures for their lives. They are intelligent, handsome, and optimistic. We see a glimpse of their lives on the brink of maturity, until the war begins. Polish WWII Survivors will be present to tell their stories after the screening.
Festival runs Nov. 14-18. Details at: Polish Film Festival Rochester.
November 7, 2009

Film: "Children in Exile: Recollections of Children Deported to the Soviet Gulag," (documentary, 2007), directed by Chris Swider, 3pm
Rysa ("Scratch," 2008), directed by Michal Rosa, at 4 p.m.
Palace Theatre, 31 Buffalo Street, Hamburg, N.Y.
Full Polish Film Showcase Festival at: http://www.canisius.edu/newsevents/display_story.asp?iNewsID=6325
November 6, 2009
Film: "General Nil" (2009) directed by Ryszard Bugajski at 6 pm Montante Cultural Center at Canisius College, 2001 Main Street, Buffalo.
November 1, 2009
Dzien Zadusznych (All Souls Commemoration)
Polish Veterans Plot at St. Stanislaus Cemetery
Pine Ridge Road (btwn. Genesee and Rt. 33), Cheektowaga, N.Y.
For directions, or to purchase a special votive candle, call Andy at 716-510-7562.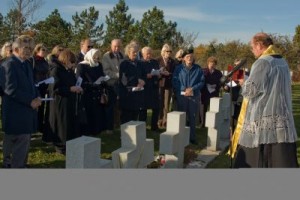 Photo courtesy Am-Pol Eagle
See how they commemorate All Souls in Poland:
http://www.youtube.com/watch?v=xvEIbDogi28
http://www.youtube.com/watch?v=JqrpWss8vM4
All Souls
Sometimes I think Warsaw fog
is the dead, come back
to seek their old homes –
wanting to touch even the walls.
But they cannot find those walls,
so they embrace the trees instead,
lindens and enduring chestnuts.
They embrace the whole city, lay
their arms around the bridges
and the droplet-beaded street lamps;
they pray in the Square of Three Crosses,
kneel among the candles and flowers
under bronze plaques that say
On this spot, 100 people were shot –
they bow, they kiss
even the railroad tracks –
they do not complain, only hold
what they can, in unraveling white.
-Oriana Ivy
This poem won an award from the Comstock Review
October 3 & 4, 2009 – Poland to Buffalo Through World War II: "Untold Stories Come Alive"
Conference Schedule:
Saturday, October 3, 2009
WNED Studios
8:00 – 9:00 Registration and Continental Breakfast
8:00 – 9:15 Invocation and Welcome
9:15 – 10:00 "Poland and WWII": Hon. David A. Franczyk,
10:00 – 10:15 Break
10:15 – 10:30 "I Remember": Film clips of Polish survivors
10:30 – 12:00 "Untold Stories Come Alive" Panel: Polish WWII Survivors tell their stories; Moderator: Hon. Carl Bucki
12:00 – 1:00 Lunch
1:00 – 2:00 "The Children's Odyssey": Irene Tomaszewski
2:00 – 2:15 Break
2:15 – 4:00 "Getting the Story Out"
Presenters:
Sophie Hodorowicz-Knab
Irene Tomaszewski
Celestine Zwolak-Arena
Henry Sokolowski
4:00 – 6:00 Reception
Sunday, October 4, 2009
Honoring Our Survivors
10:00 – 11:00 Mass: Corpus Christi Church
Reunion of Survivors & Descendants:
Dom Polski (one block away at 1081 Broadway)
11:40 – 1:15 Brunch and Singing led by Fr. Krysa & Pani Golebiowska
1:15 – 2:15 Film "Exiles"
2:15 – 4:00 Discussion: "Where do we go from here?"
Contact: Andy Golebiowski      email: andywbuffalo@yahoo.com     Phone: 716-510-7562